2016 / 04 / 15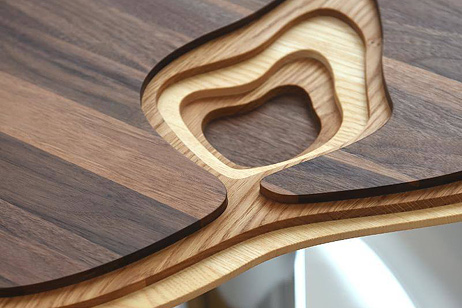 Andreas Klippinge Design was invited to take part of the exhibition Den Nya Kartan: Småland at the art and design museum Vandalorum in Värnamo (read previous blog post for more info). In collaboration with the table top manufacturer Ljungsåsa Andreas Klippinge have designed a set of low tables called Ö-land.
Ö-land has an exclusive table top of walnut, oak and ash. The advanced topographic shape is inspired by the archipelago of Småland (province in Sweden), where Andreas Klippinge grew up. The color difference between the wood species enhances the landscape formation and the chromed table stand is reminiscent of a mirror-like water surface.
The exhibition – Den Nya Kartan – is open between 9/4–29/5 at Vandalorum, showing a total of 40 collaborations between designers and industries/workshops from both the province of Skåne and Småland. Welcome!